Price 16800 ISK per person
Highlights
– Kerið Volcanic Crater
– Gullfoss Waterfall
– Geysir Geothermal area
– Þingvellir National Park
Available all year
– Duration 7 to 8 hours.
– Departures on Mondays, Tuesdays, Thursdays and Saturdays.
– Departure time 9:00am
– Pickup time between 8:30am to 9:00am.
Included
– Free WiFi on board
– Guide
– Parking and entrance fees
Note
– During our tour we take break for refreshments at café or restaurant
– Refreshments are not incl. in tour price.
– We might change the order of stops on our tour due to weather and traffic.
We recommend bringing!
– Warm clothing (wind/waterproof coat and trousers).
– Base layers over wintertime (merino wool or similar).
– Good trainers or hiking boots.
– Water bottle.
– And of course good mood.
Attention!
Let us know if car seat for child/children is needed or if there is any disability that we need to know of.
If paid in advance 15% discount is added to your booking by checkout if booked 24-hours before tour start!
Tour Description!
From Reykjavik we drive for about 45 minutes to Hveragerði (small town) where we make a quick facility stop.
After Hveragerði we drive for about 20 minutes to Kerið Crater, were we stop for 30 minutes sightseeing.
After Kerið we drive for about 45 minutes to Geysir, where we stop for 75 minutes for sightseeing, lunch and facility stop at Geysir Center.
After Geysir we drive for about 10 minutes to Gullfoss where we stop for 30 minutes sightseeing and facility stop.
From Gullfoss we drive for about 60 minutes to the National Park Þingvellir where we stop for 60 minutes sightseeing and facility stop.
After Þingvellir we got about 45 minutes drive back to Reykjavik.
Kerið (Volcanic Crater)
The crater Kerið was formed about 6,500 years ago, making it roughly half the age of most volcanic calderas found in Iceland and it lies at the northern end of a row of craters known as Tjarnarhólar.
Kerið is approximately 55 metres (180 feet) deep, 170 metres (558 feet) wide and 270 meters (886 feet) in circumference. It is a short and easy walk from the parking lot to the edge of the crater and it is possible to take a path around the crater and to descend down to the pristine waters of the crater lake. According to an old tradition, a rise in the water level here is accompanied by a corresponding fall in the pond on Búrfell in Grímsnes and vice versa.

Gullfoss (Golden Falls)
The stunning, iconic waterfall of Gulfoss is located in the Hvítá river, which comes from the glacier Langjökull.  It is one of the best-known sights in Iceland and is one of the three main places we visit on our Golden Circle Tour. In fact, the name Golden Circle is derived from the waterfall name, as it literally translates as the "Golden Waterfall".
In the summer, the water flow down the falls is approximately 140 cubic metres per second. In winter that decreases to approximately 109 cubic metres per second.
The roar of the falling water and the spray that it throws up as it falls makes for an exciting experience. In summer, on a sunny day, it is often possible to see a rainbow caused by the huge amounts of spray.
And with such a force of water, visitors should not be surprised to find themselves occasionally drenched in the waterfall's spray.
Access to Gullfoss is easy and everybody can see and experience its incredible force of nature.
Geysir
The highly active Geysir area at Haukadalur contains the natural phenomena of boiling mud pools and exploding geysers. The most active geyser is Strokkur which spouts water 30 metres into the air every few minutes.
Research shows that the Geysir area has been active for approximately 10,000 years.
The oldest accounts of hot springs at Haukadalur date back to 1294, when earthquakes in the area caused significant changes in the local neighbouring landscape creating several new hot springs.
Changes in the activity of Geysir and its surrounds are strongly related to earthquake activity. In records dated 1630, the geysers erupted so violently that the valley around them trembled.
The place name "Geysir" was first mentioned in written sources in the 18th century and, as unusual natural phenomena were of high interest to the society during the Age of Enlightenment, the term became popular and has been used for similar hydrothermal features worldwide since then.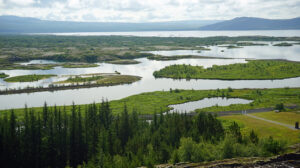 Þingvellir
Þingvellir (literally "Parliament Plains") is a beautiful and amazing place, as a site of historical, cultural and geological significance. It is located in part of the rift valley which marks the boundary between the North American and Eurasian tectonic plates.
Major events in the history of Iceland have taken place at Þingvellir and therefore the place is held in high esteem by all Icelanders.
Þingvellir is also a classified UNESCO World Heritage Site.
No single place epitomizes the history of Iceland and the Icelandic nation better than Þingvellir by the river Öxará.  The Alþingi, national parliament of Iceland, was established at Þingvellir around AD930 and continued to convene there until 1798 in its parliamentary role.
The Alþingi was also Iceland's supreme legislative and judicial authority until 1271. The Lögberg (Law Rock) was the focal point of the Alþingi and a natural platform for holding speeches.
Today Þingvellir is a protected national shrine. According to a law passed in 1928, the protected area shall always be the property of the Icelandic nation, under the preservation of the Alþingi.
The Golden Circle Tour duration is about 7 to 8 hours, including stops at the 3 main sites and even one or two extra stops depending on time available.
With Iceland Everywhere Tours, you are led by an experienced guide who gives you information about each destination. While driving between destinations you will be told about what you see through the window and you will get an insight into our local history, culture and nation.
Iceland Everywhere Tours travels with small groups in comfortable minibuses and our guides work hard to ensure that you receive personal service and an excellent experience.
All destinations in the "Golden Circle" are easy to access for everyone.